Since Moodle 3.x, Boost became Moodle's new core theme. It's designed to improve the overall user experience of Moodle across desktop and mobile devices and it comes with a new navigation system, course layout and convenient editing options. Moodle has been encouraging developers to build their Moodle themes based on Boost to utilise all the latest features available to themes in Moodle.
At the time of writing, there aren't many Moodle themes based on the new Boost theme. Most of the free or premium themes are all based on old Moodle core themes. As Moodle is moving forward with Boost we expect more and more theme developers to adopt Boost as their base theme in the near future.
Among all of the available Boost based Moodle themes, below is a list of the top 3 themes you can use to future-proof your Moodle site.
2022 Update:
We have released a brand new Boost-based theme for Moodle 4.x.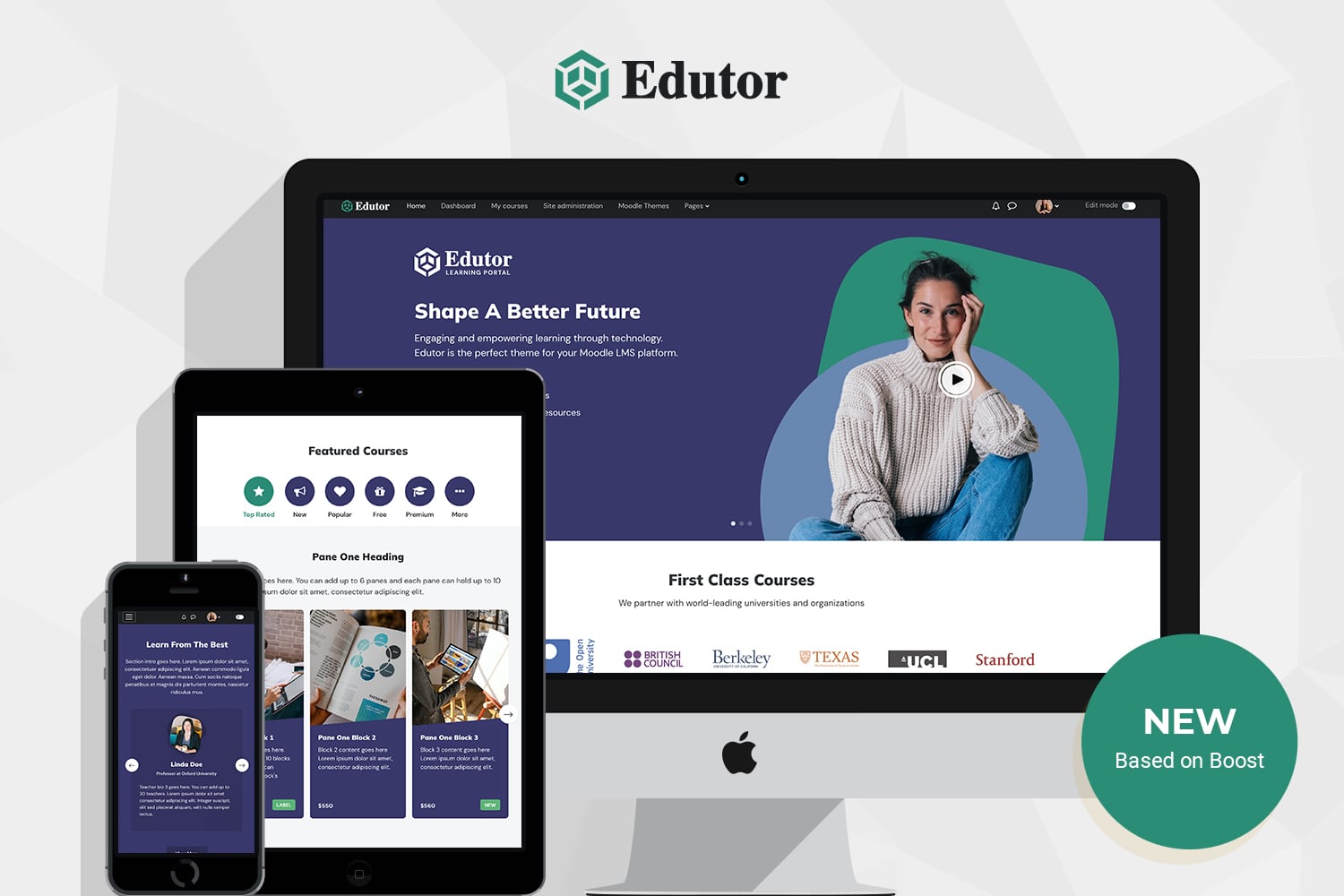 1. Moove Theme (Free)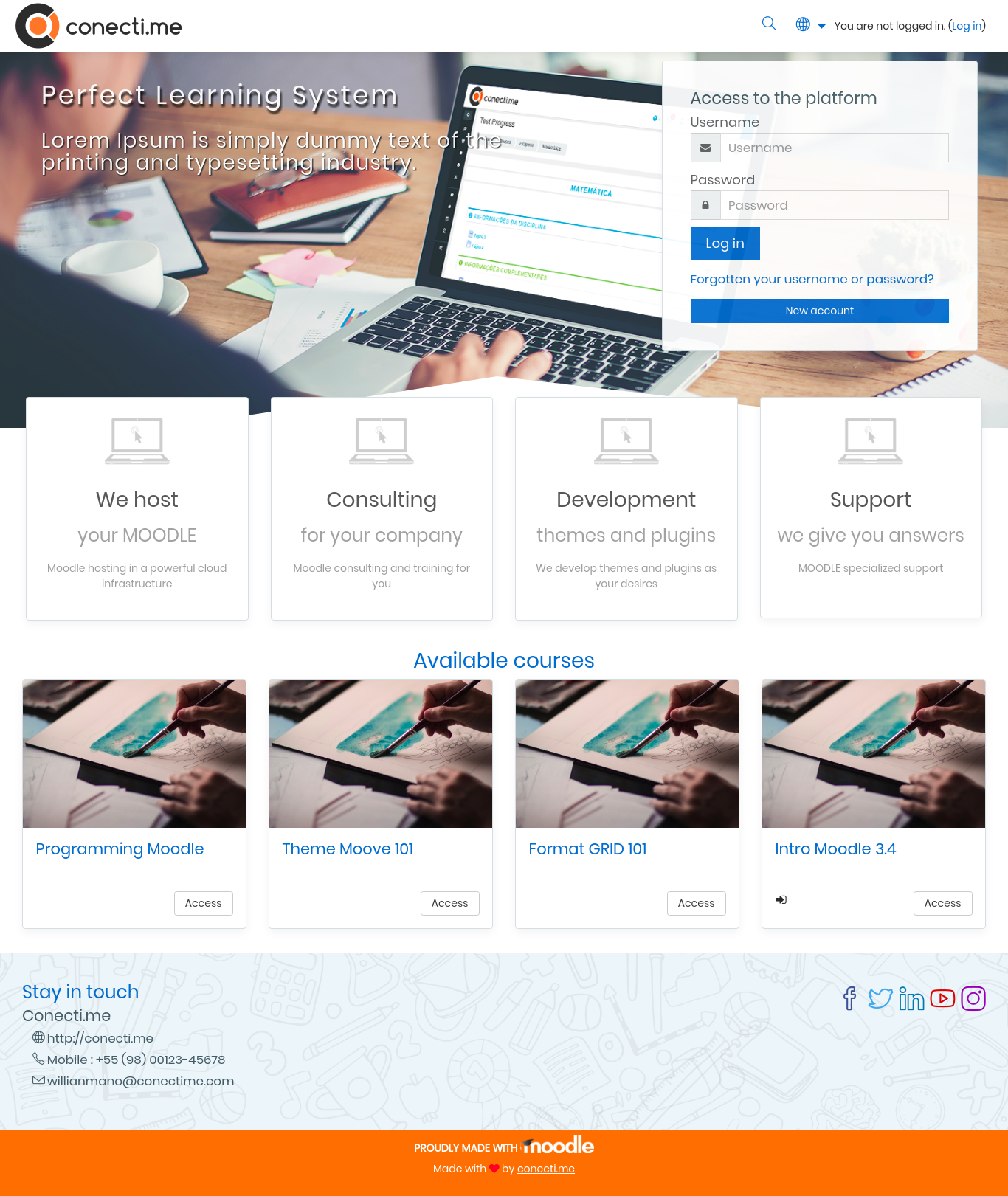 Moove is a free Moodle theme compatible with Moodle 3.x and 4.0. Moove (for Moodle 3.x) provides an app-like modern interface and is designed to help your users focus on your site's content. This theme is developed and maintained by Willian Mano. If you'd like to support the theme author and help keep the theme "free and alive" you can head to the theme details page to make a donation.
Moove Theme Frontpage (Moodle 3.x):
You can add a header image with heading and 4 marketing spots with icon images, content and links. There is a custom login form overlaid on top of the header image for quick user login.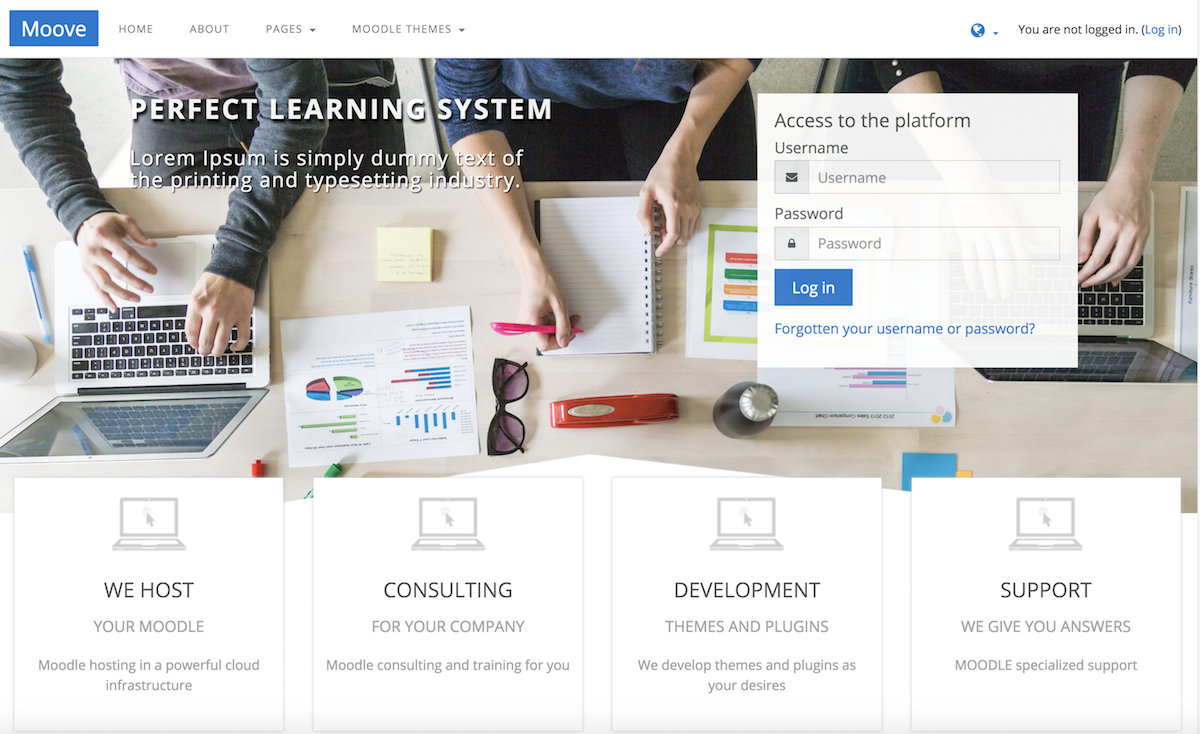 Moove Theme Course Page (Moodle 3.x):
You can toggle the navigation drawer and the side blocks, maximising screen space to focus on the course content.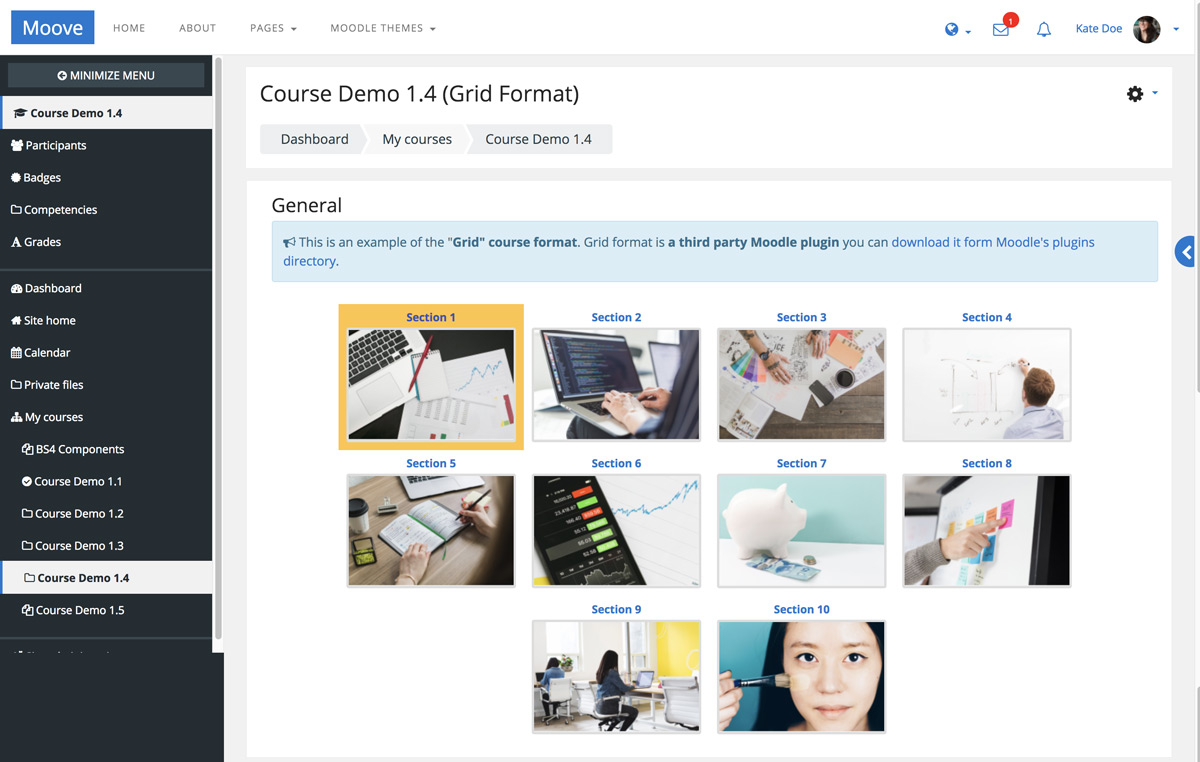 Moove Theme Dashboard (Moodle 3.x):
For admin users, the dashboard contains a quick overview of useful stats such as disk usage, online users, and course and user totals.
2. Fordson Theme (Free)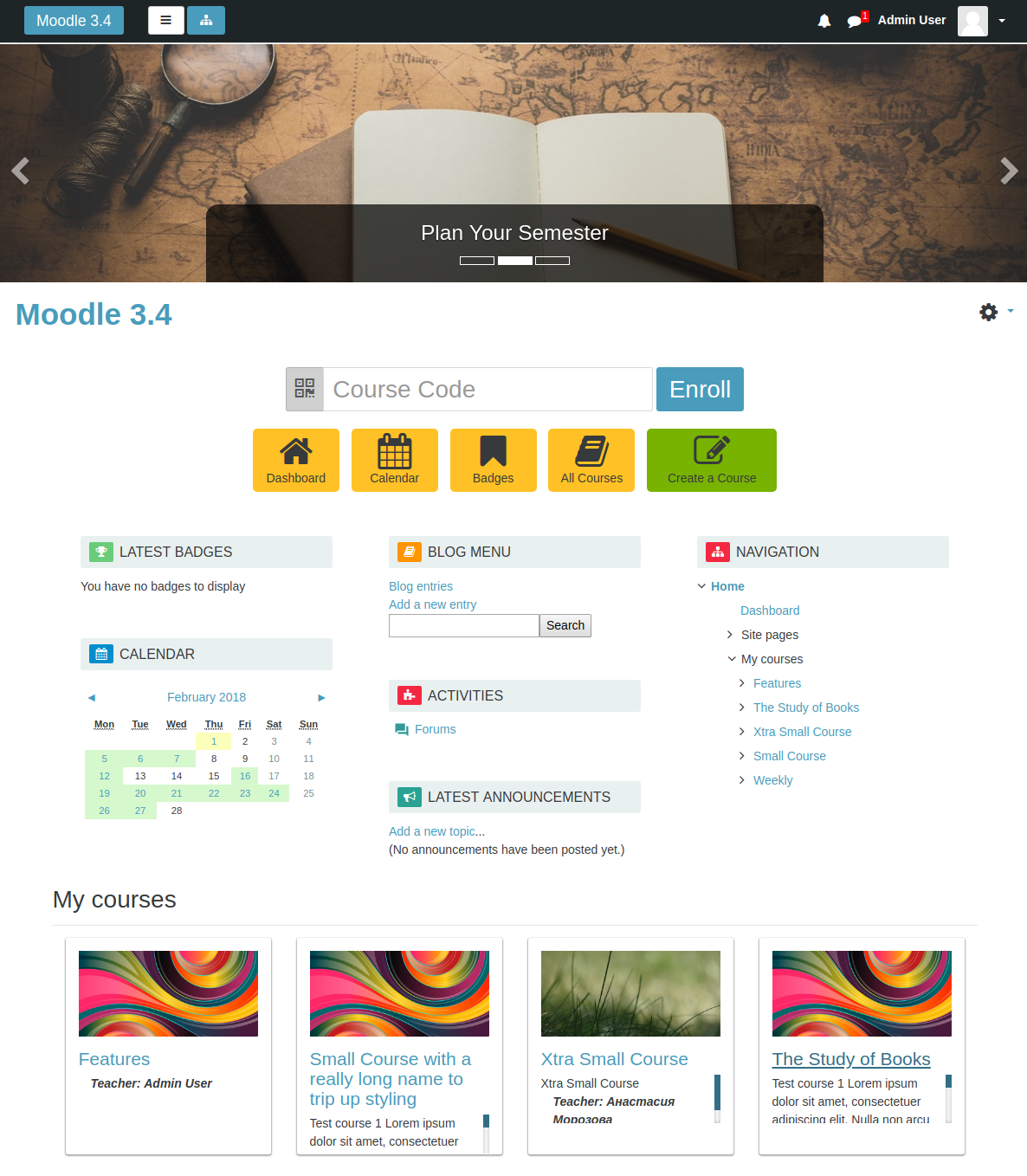 Fordson is another free Boost-based Moodle theme compatible with Moodle 3.2+. It contains lots of useful features and is mainly designed for educational organisations. It's developed based on feedback from users and aims to provide the best experience for students "from login to learning". To find out more about the Fordson theme you can take a look at the theme promo page here.
Fordson Theme Frontpage:
You can add a slideshow, have the option to show a quick login form for logged out users and add up to 6 marketing spots either at top or bottom of the page. For logged in users, you can add up to 8 icons to act as quick links to other sections.
For logged-out users: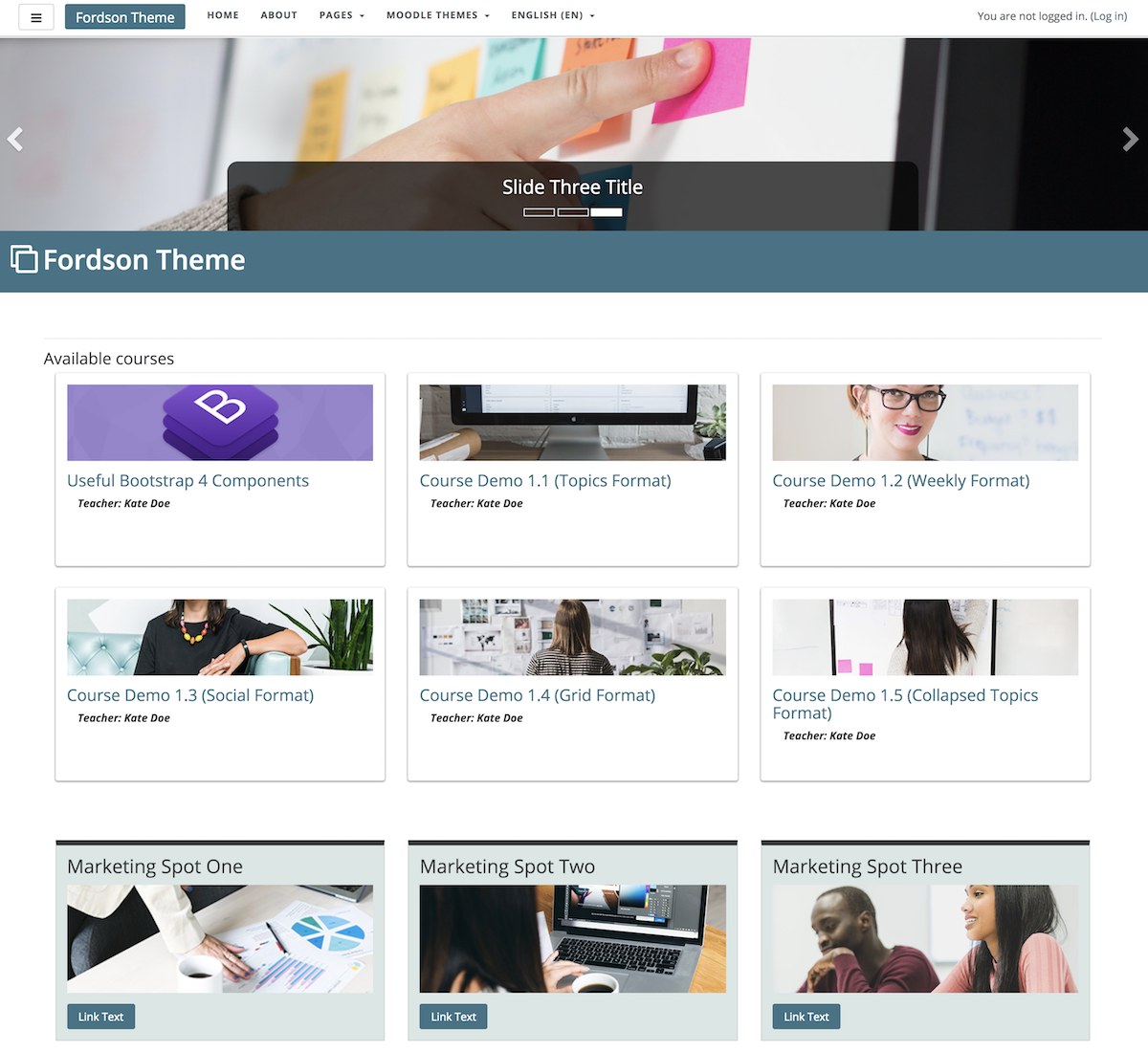 For logged-in users: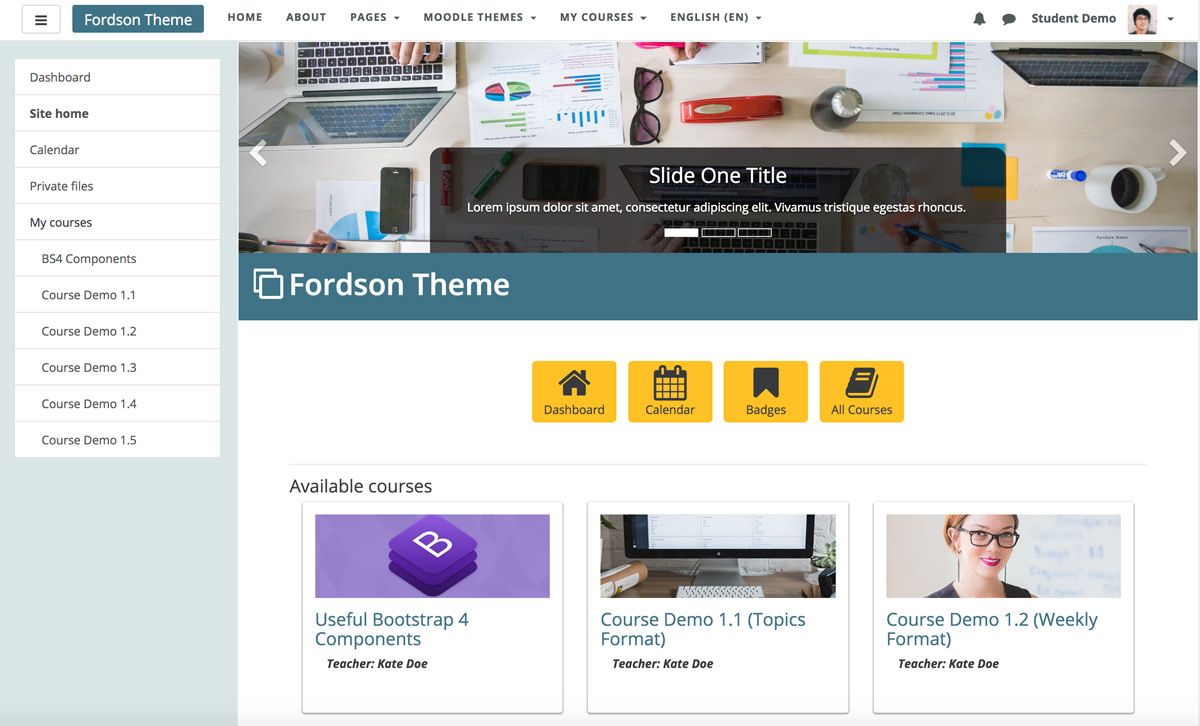 Fordson Theme Course Page:
For each course, you have the option to upload a course banner image to be displayed above the course name. As a course teacher, you can also toggle a custom course management panel to access all of the options for managing the course.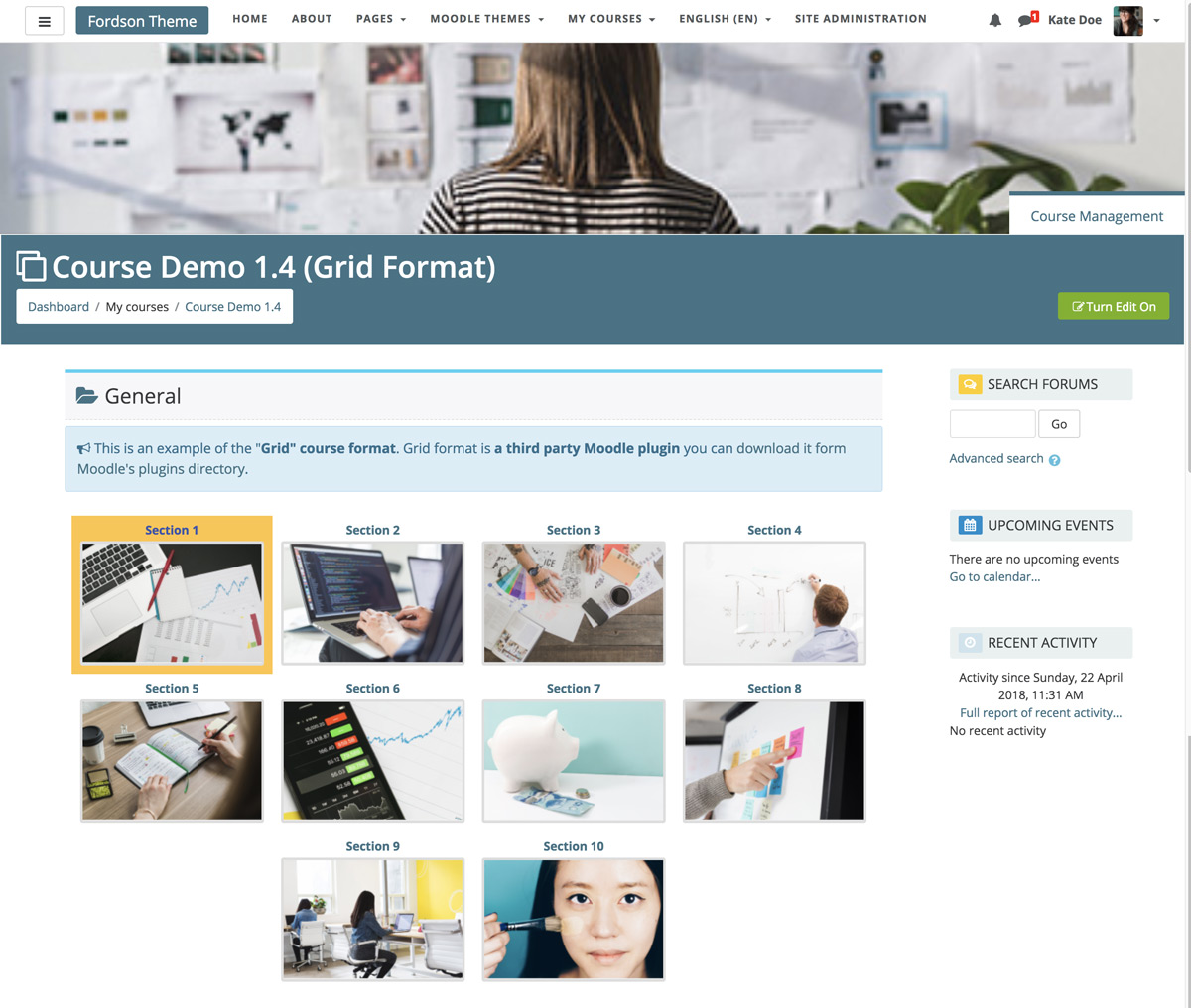 Fordson Theme Dashboard:
It contains a prominent user profile section and the design is clean and simple.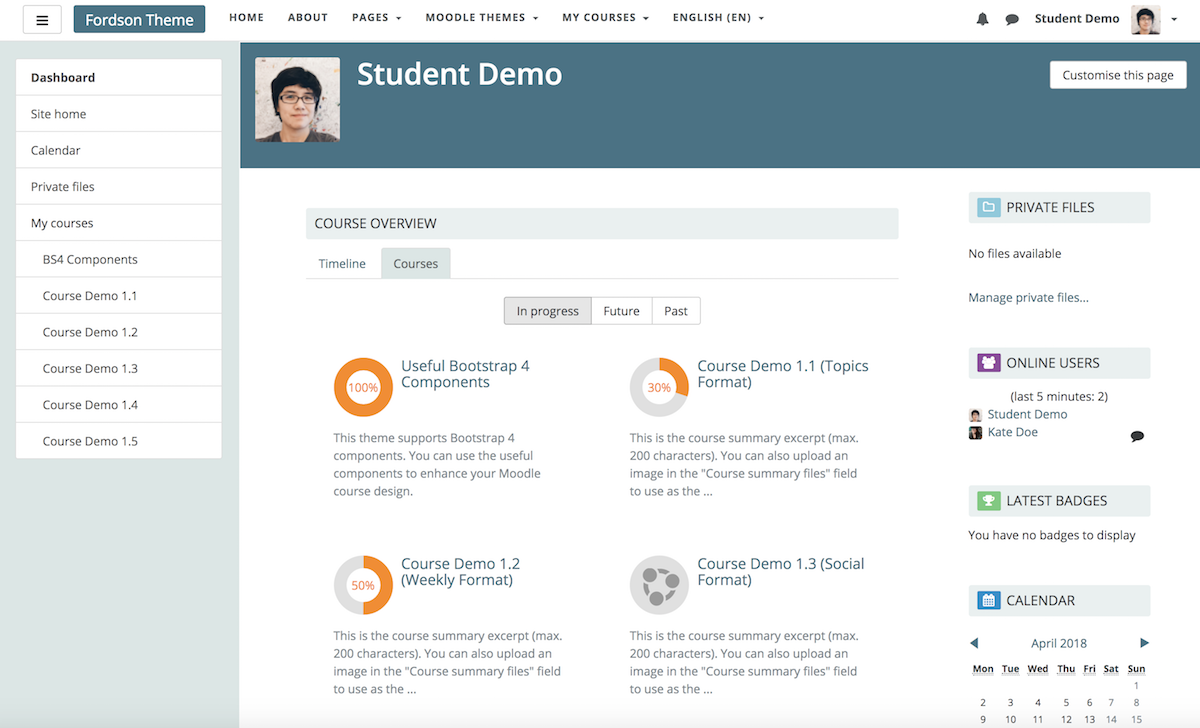 Download Fordson
Live Demo
3. Maker (Premium)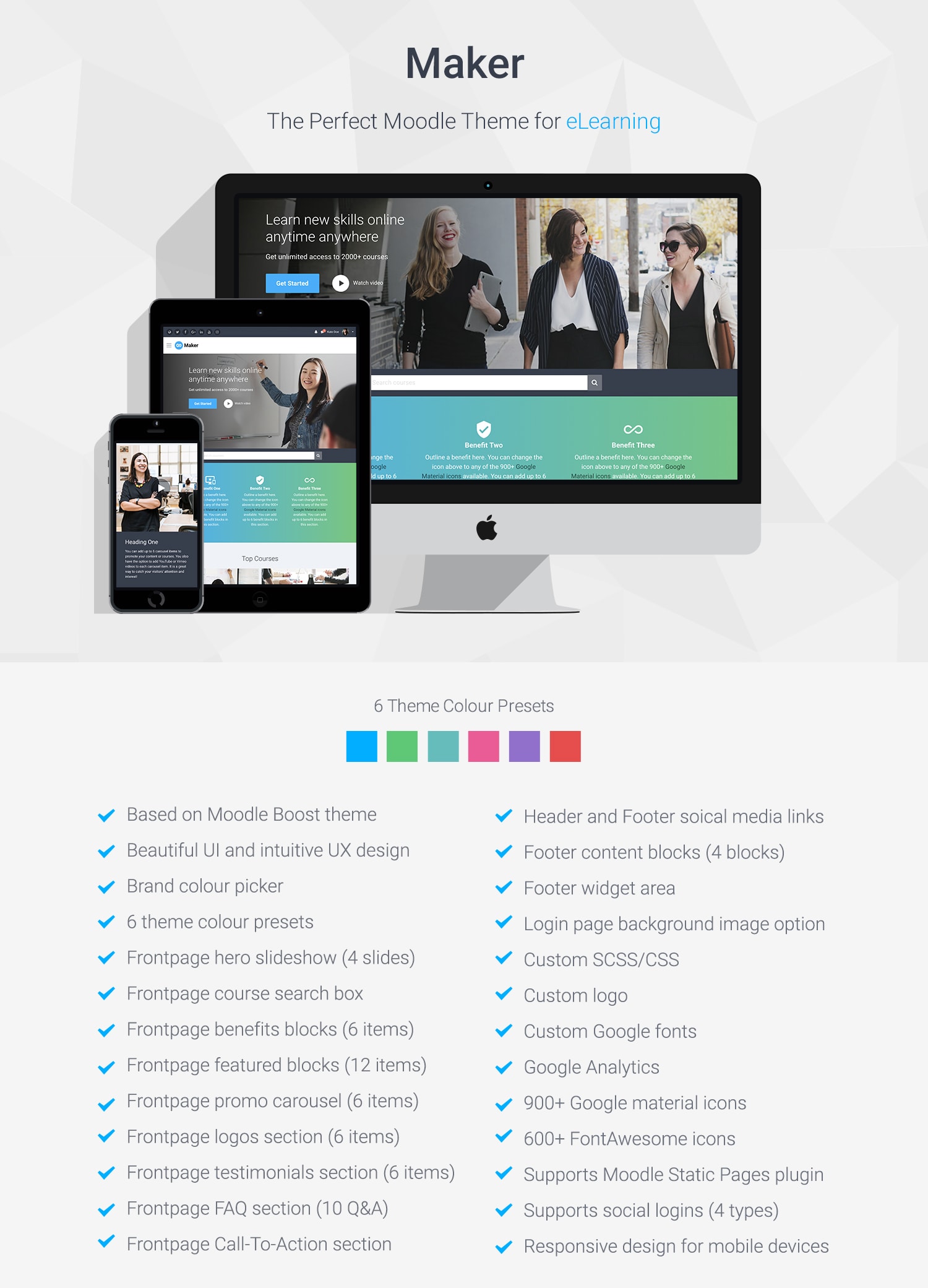 Maker is a premium theme developed for Moodle LMS platform. It's primarily designed for businesses, government organisations and higher education to provide a cost-effective way to transform their Moodle sites into outstanding learning platforms. It's packed with configurable features and is highly customisable to suit any company/organisation's branding. For a full feature list, please visit the theme details page here.
Maker Theme Frontpage:
Configurable items
include:
Header alert
,
slideshow
,
benefits blocks
,
featured blocks
,
promo carousel
,
logos
,
testimonials
,
course list layout styles
,
FAQ
and
Call-To-Action section
.

Feature Update:
You can choose a different course list layout style via the theme settings page.(
learn more
)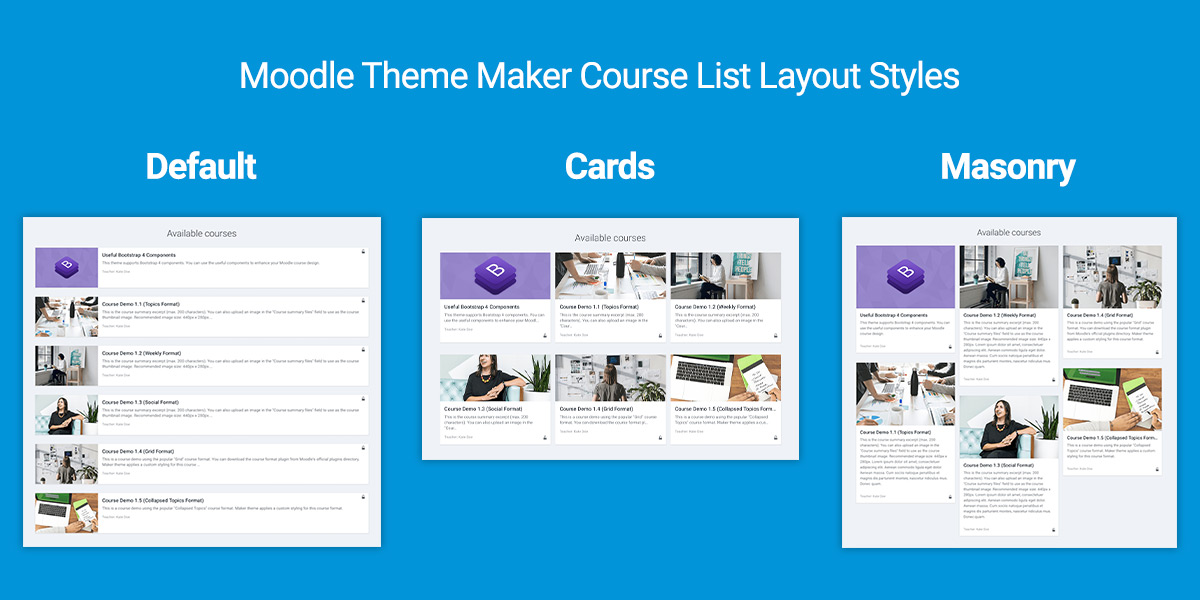 Maker Theme Course Page:
This theme provides lots of useful Bootstrap components for teachers to use in course creation. It also allows you to set a course image to be displayed in the course header area.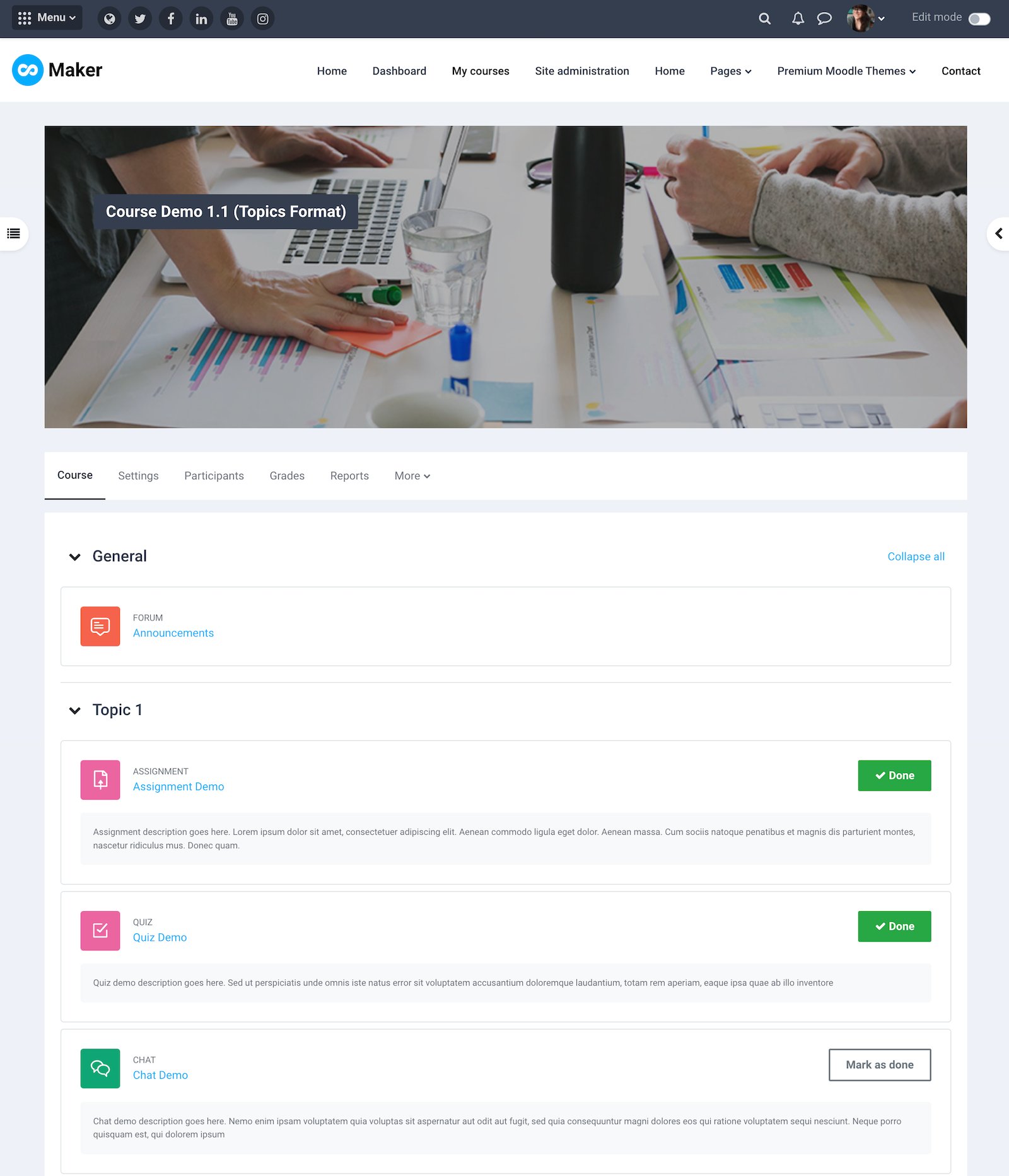 Maker Theme Dashboard & My Courses:
The design is super clean and sleek. All the information is presented in a simple yet effective way.
Dashboard Page (Moodle 4.x)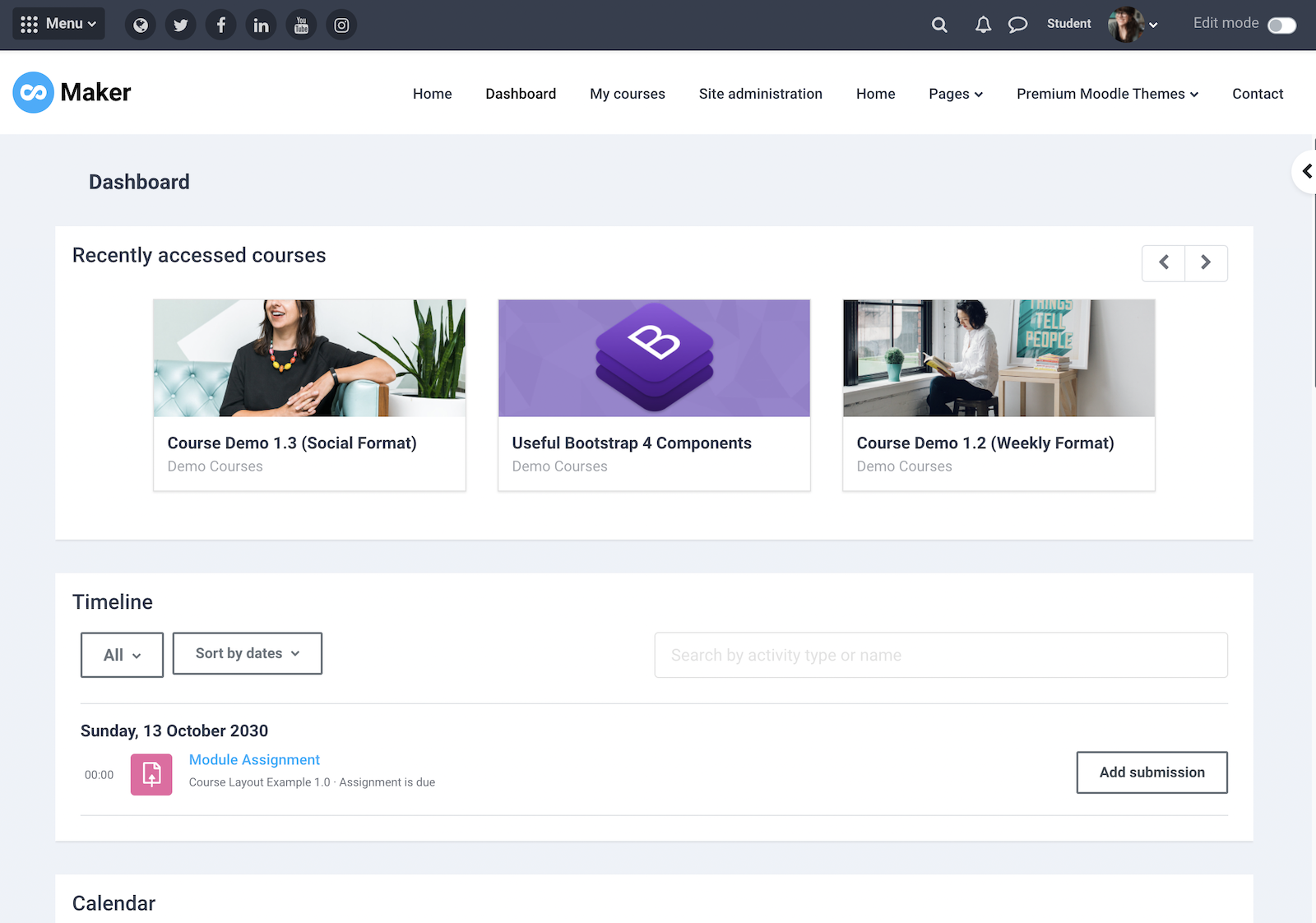 My Courses Page (Moodle 4.x)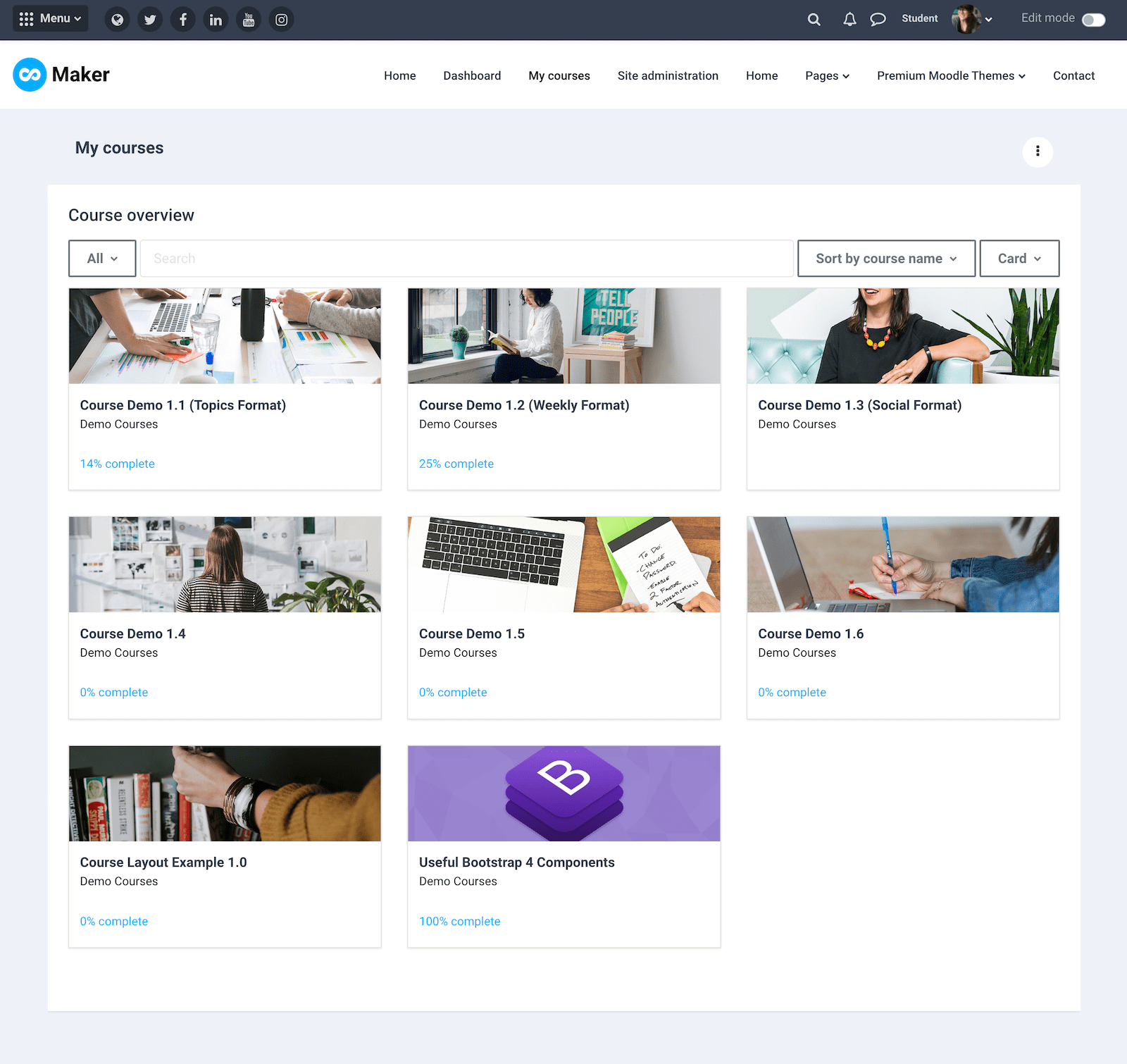 Maker Theme Static Pages:
Maker has built-in static page styling so you can add professional-looking pages (eg. "About Us", "Contact us" and "FAQ") to your Moodle site. You can learn more here.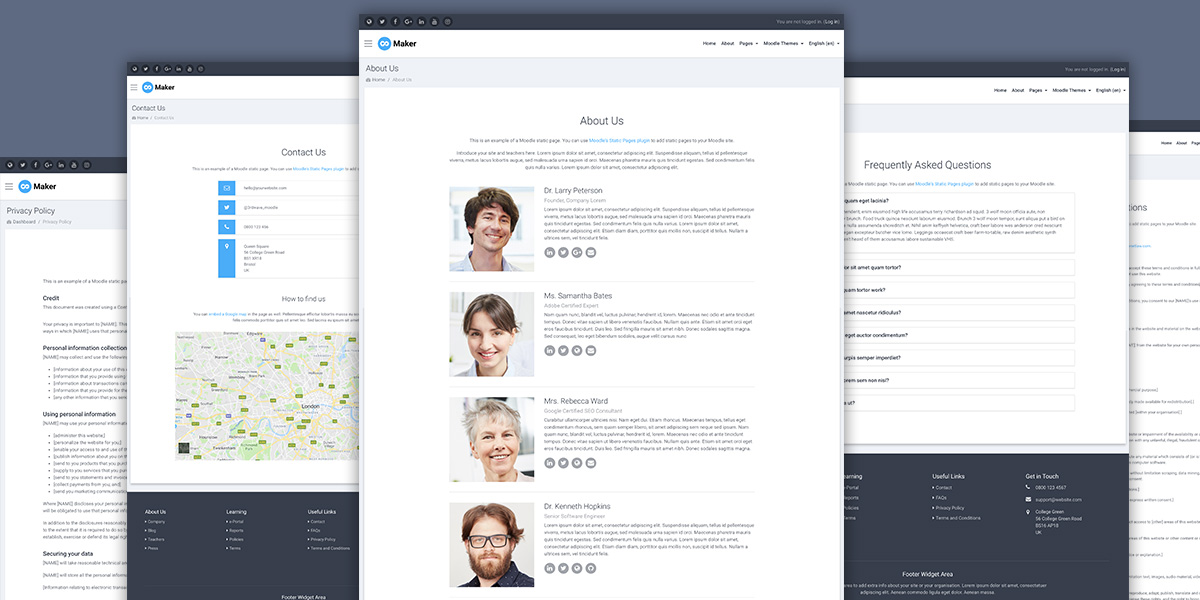 Maker Theme Login Page:
Maker supports social logins with custom styling. You can learn how to enable social logins in your Moodle site here.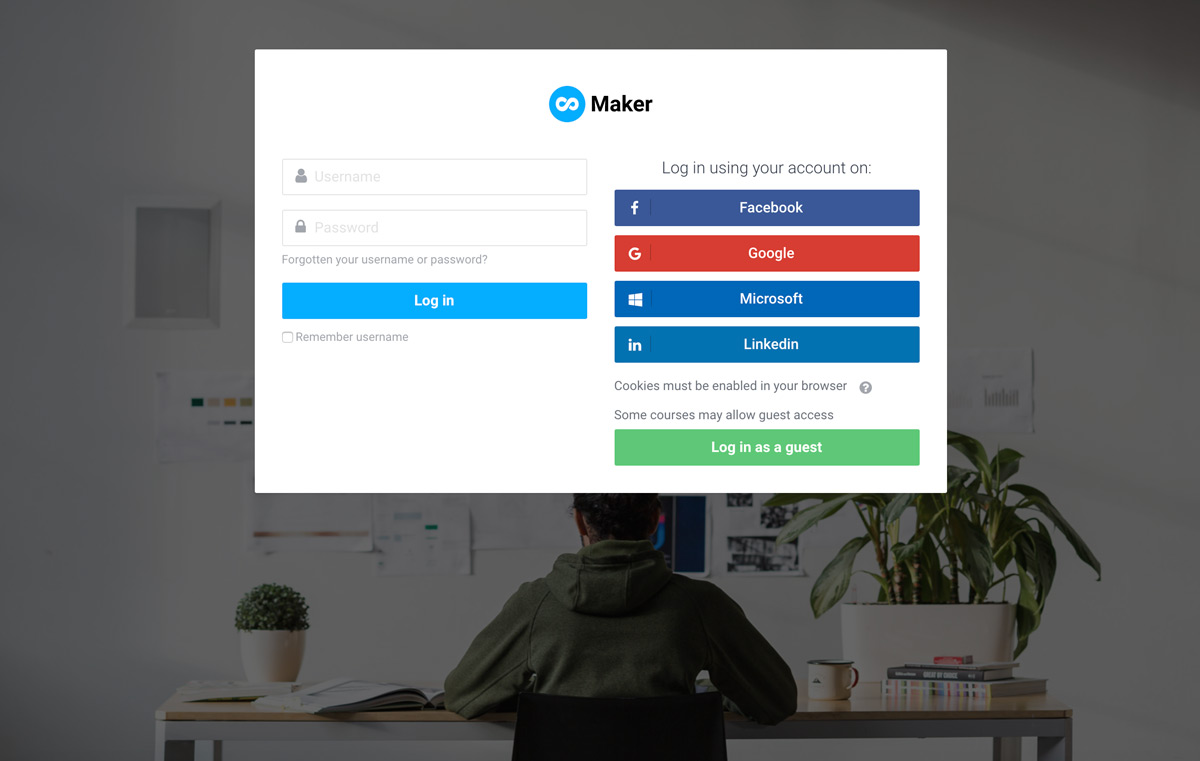 Live Demo
Maker Theme Details