1) E-Learning Platform Demo (Moodle)
Below you can find a link to our e-learning platform demo built on Moodle 2.x. The purpose of this demo is for you to explore Moodle's features as a popular open source LMS (Learning Management System), and also for us to demonstrate what we can do for you in terms of the platform interface design and user experience design. An open source LMS is like an empty building, and we can design and decorate the interior and help you to explore the potential of the building and position all the furniture to reflect your organization's personality and the needs of the users.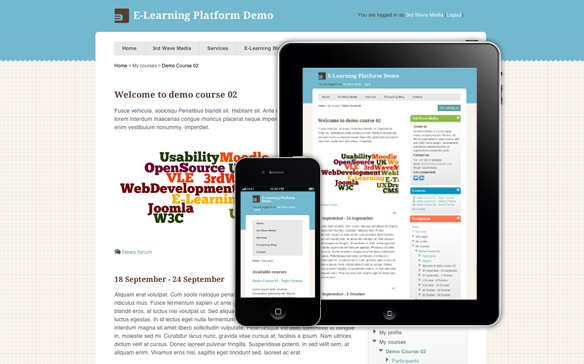 Design Features:
We've designed the demo to have a clean and modern look to enhance the user experience. Along with the interface design, we also customised the generic Moodle icon set to make it more in line with the visual interface. Last but not least, for the layout, we adopted the latest responsive design techniques to provide users with a better viewing experience while using devices like tablets (such as iPad) and smartphones (such as iPhone and Android handsets).
You can access all the demo courses as a guest.
Is Moodle the right e-learning platform for you?
You can visit the official Moodle site to find out more:
What is MoodleMoodle Statistics
2) E-Portfolio Demo (Mahara)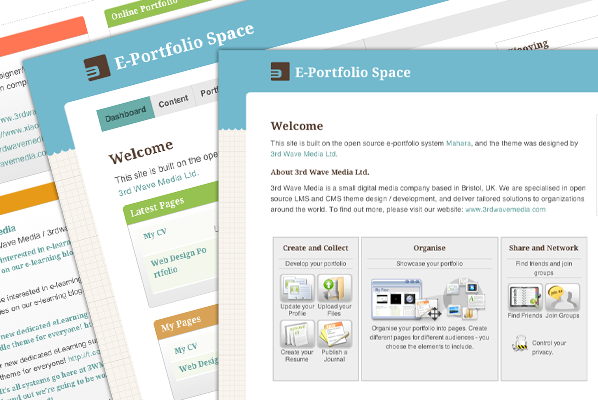 Looking for a responsive Mahara theme which is optimised for tablets and smartphones?
Our new Mahara 1.6/1.7/1.8/1.9 Theme "Fabfolio" is based on further development of this demo theme and upgraded to be compatible with Mahara 1.6, 1.7 and 1.8. Fabfolio can be purchased from the themes page now.
Mahara is a fully featured electronic portfolio system with social networking features to create online communities. More and more higher education institutions and companies are using Mahara to provide space for students/professionals to showcase their work for educational and professional purpose.
Mahara can not only act as a standalone e-portfolio system, it can also be seamlessly integrated with a Moodle installation to form a great online learning platform and community. The integration between Moodle and Mahara is officially referred as "Mahoodle", and you can find more information about Mahoodle here.
We have set up a Mahara 1.4 installation and networked it to our Moodle 2.1.1 installation with a consistent interface design to demonstrate a seamless integration between the two systems.
Stand-alone Mahara
To explore a stand-alone Mahara installation, you can use the demo login below:
Username: user1
Password: user1demo
Mahoodle
To explore Mahoodle(Moodle/Mahara integration), you need to go to our Moodle demo site and login use the details below:
Note: Our Mahoodle is using Moodle as the master application and Mahara is acting as a Moodle slave application, which is a commonly adopted integration method. However, it is also possible to use Mahara as the master and make Moodle a slave should it suit your needs.
Username: user2
Password: user2demo
Who is using Mahara?
You can find a list here with some examples.