Moodle 4.0+ is finally here in 2022. This is a major Moodle release and it contains a significant amount of UX and UI changes to meet the global Moodle community's evolving needs. Moodle 4.0+ has a brand new look and it drastically improved Moodle's overall user experience for students and educators.
Ready to upgrade your site to Moodle 4.0+ to take advantage of all of the most wanted new features and provide a better user experience to your site users? To help you get started we have compiled a list of the best Moodle themes you can use for your new Moodle 4.0 site.
At the time of writing, most of the free Moodle themes are still only compatible up to Moodle 3.11. We will update the post and add the best ones as soon as they become compatible with Moodle 4.0 so watch this space!
Boost Theme (FREE)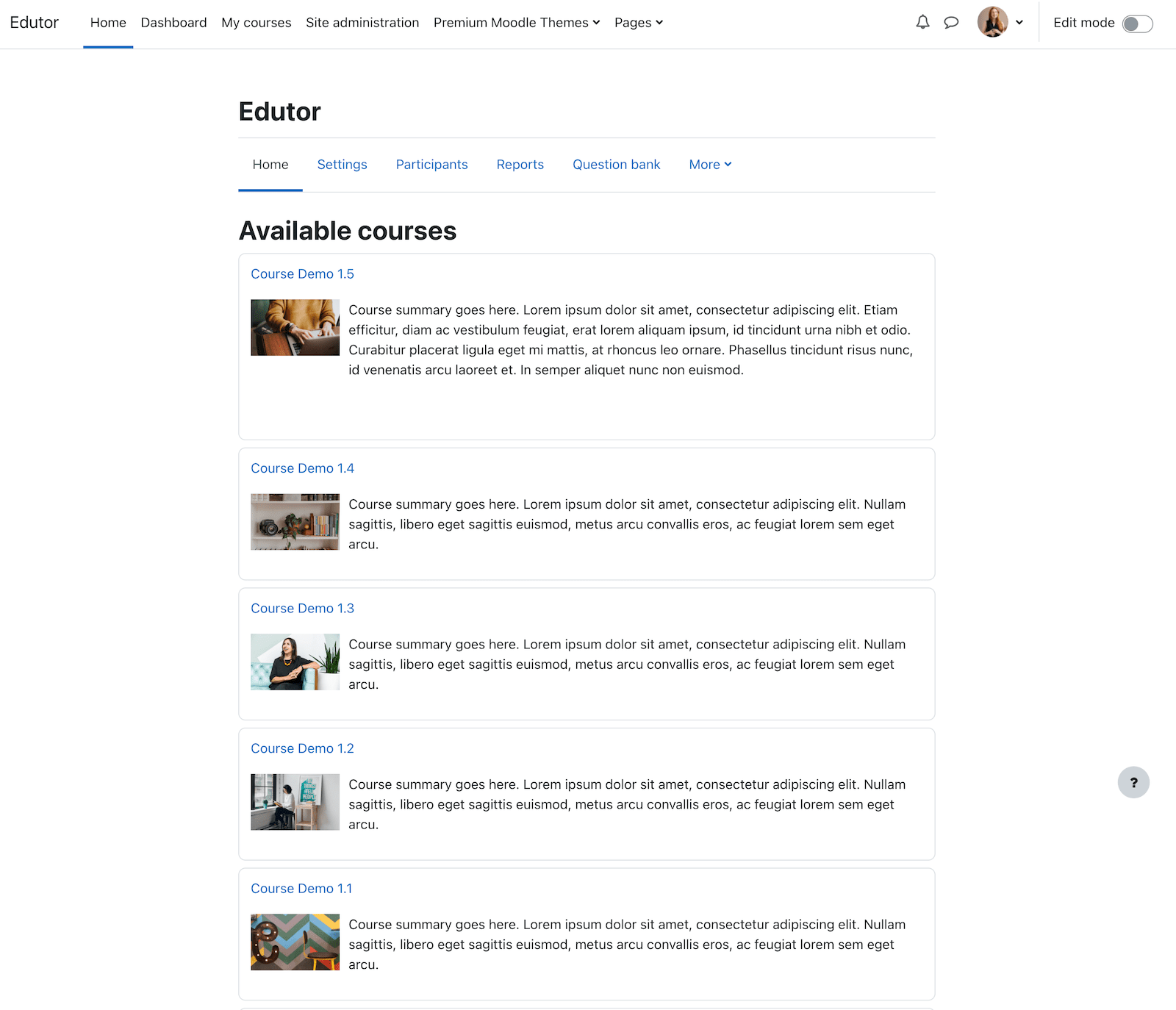 Boost is Moodle's core theme and it has a contemporary new look in Moodle 4.0. Although the design is plain, the UX is intuitive and the UI is super clean. If you have a limited budget and just want to set up a clean yet functional Moodle LMS site, Boost theme for Moodle 4.0 is perfect for you.
Dashboard view: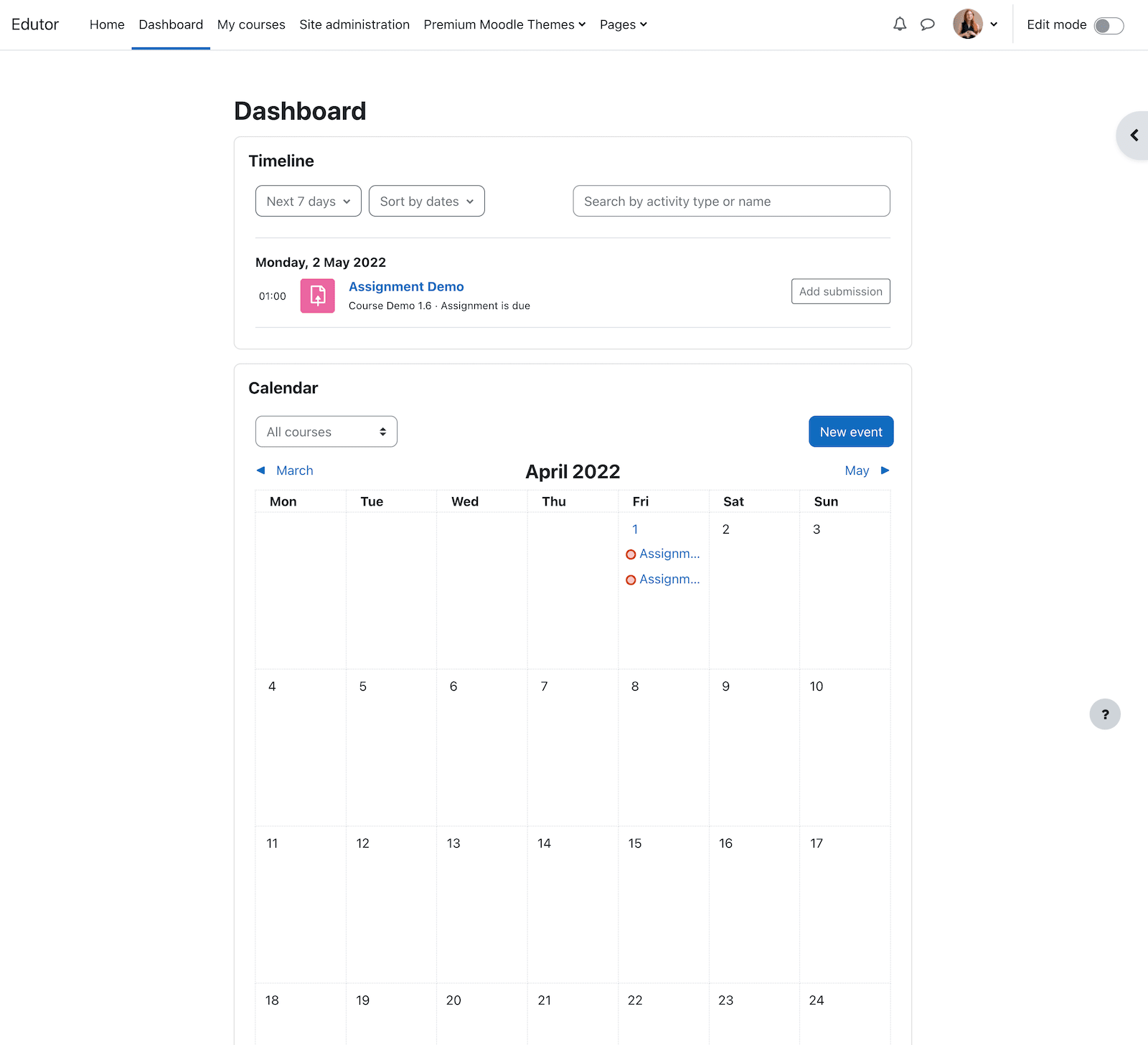 Course view: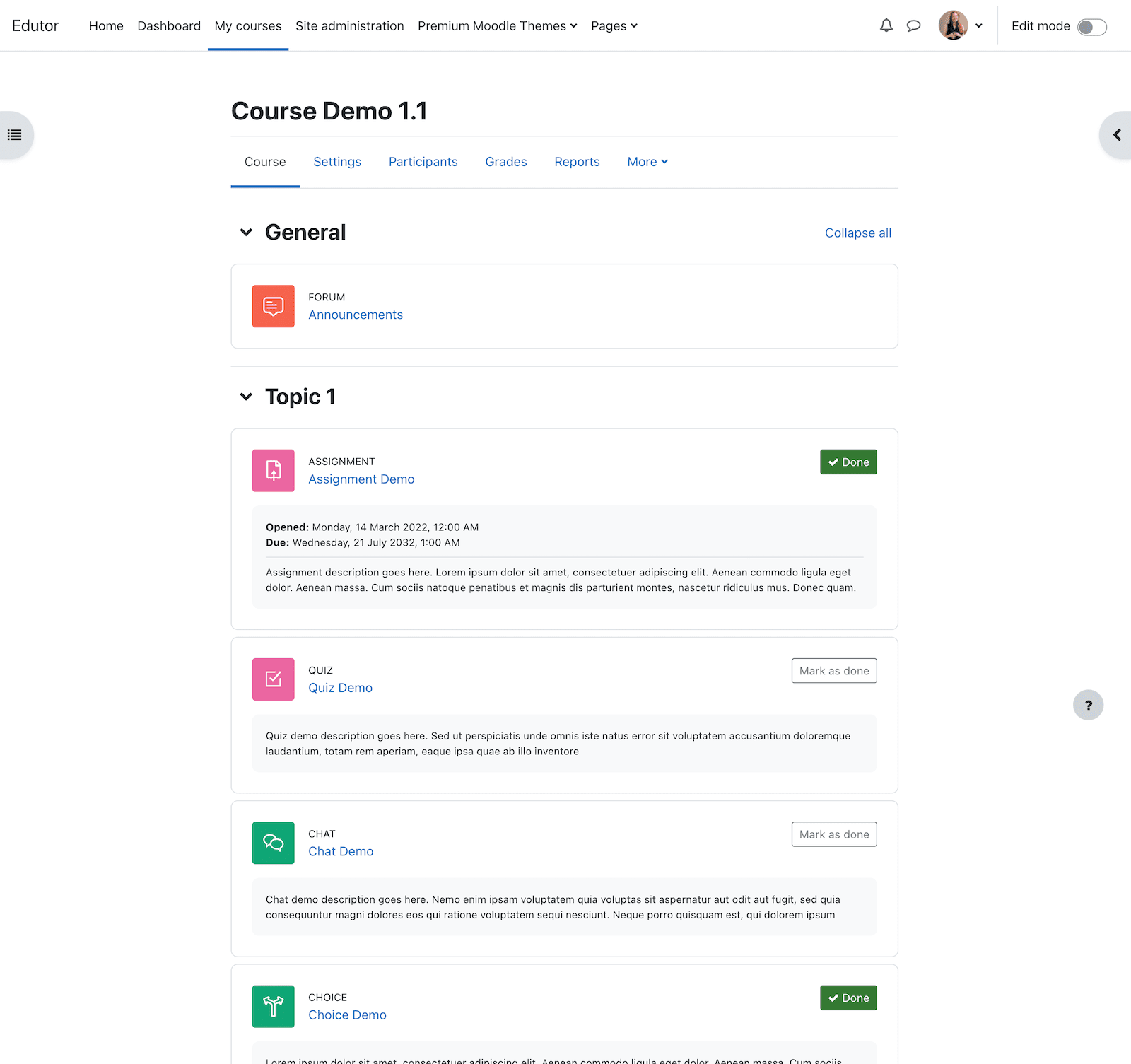 If you already have a professionally designed landing page for your main site you can simply provide a link on your main site pointing to your Moodle site's login page. You can also force users to log in before viewing default content in your Moodle 4.0 site.
Moodle has released a new promotional video highlighting the main features in the Boost theme for Moodle 4.0 below. You can also read our blog post "What's new in Moodle 4.0" to find out more about the changes in Moodle 4.0.
Edutor Theme (Premium)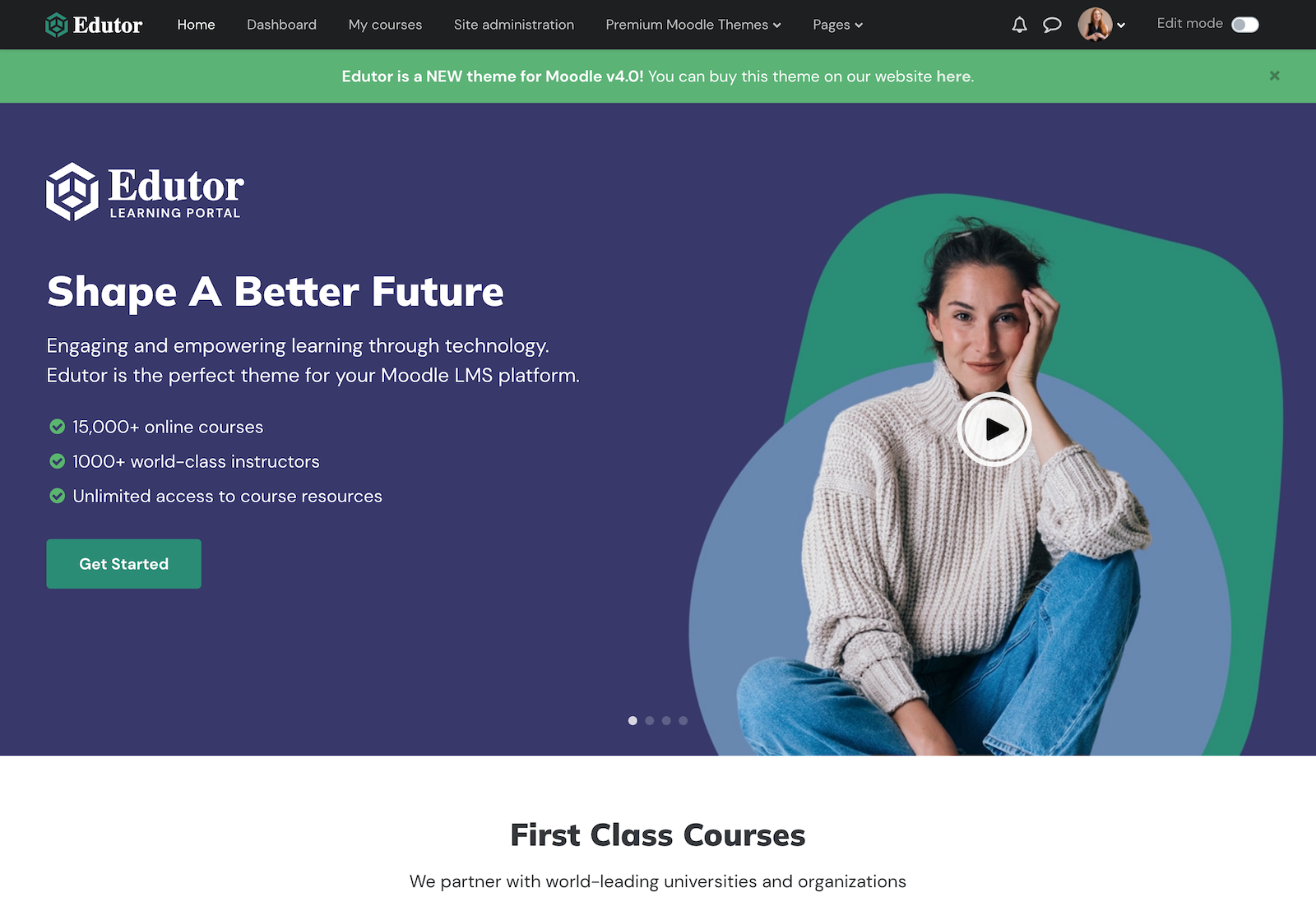 Edutor is a brand new premium Moodle 4.0 theme released in 2022. Packed with modern and on-trend design elements and features this theme is easy to customise and provides the perfect design solution for university and corporate Moodle sites. Because it's built based on Moodle's core theme Boost, it inherits and retains all of the best features and improvements from Moodle 4.0+ which makes it future-proof.
This theme comes with 6 classic colour schemes to get you started and the site admin can easily fine tune the colours and design via the theme settings page to make your Moodle site align with your organisation and business' branding guidelines.
Instead of paying a design agency tens of thousands of dollars, this theme empowers you to convert your Moodle LMS into a professionally designed bespoke learning portal easily at a fraction of the cost. Even better, it has a 30-day money back guarantee so you can try out the theme before committing. If for any reason the theme doesn't work for your site then just get in touch for a refund – no questions asked.
Maker Theme (Premium)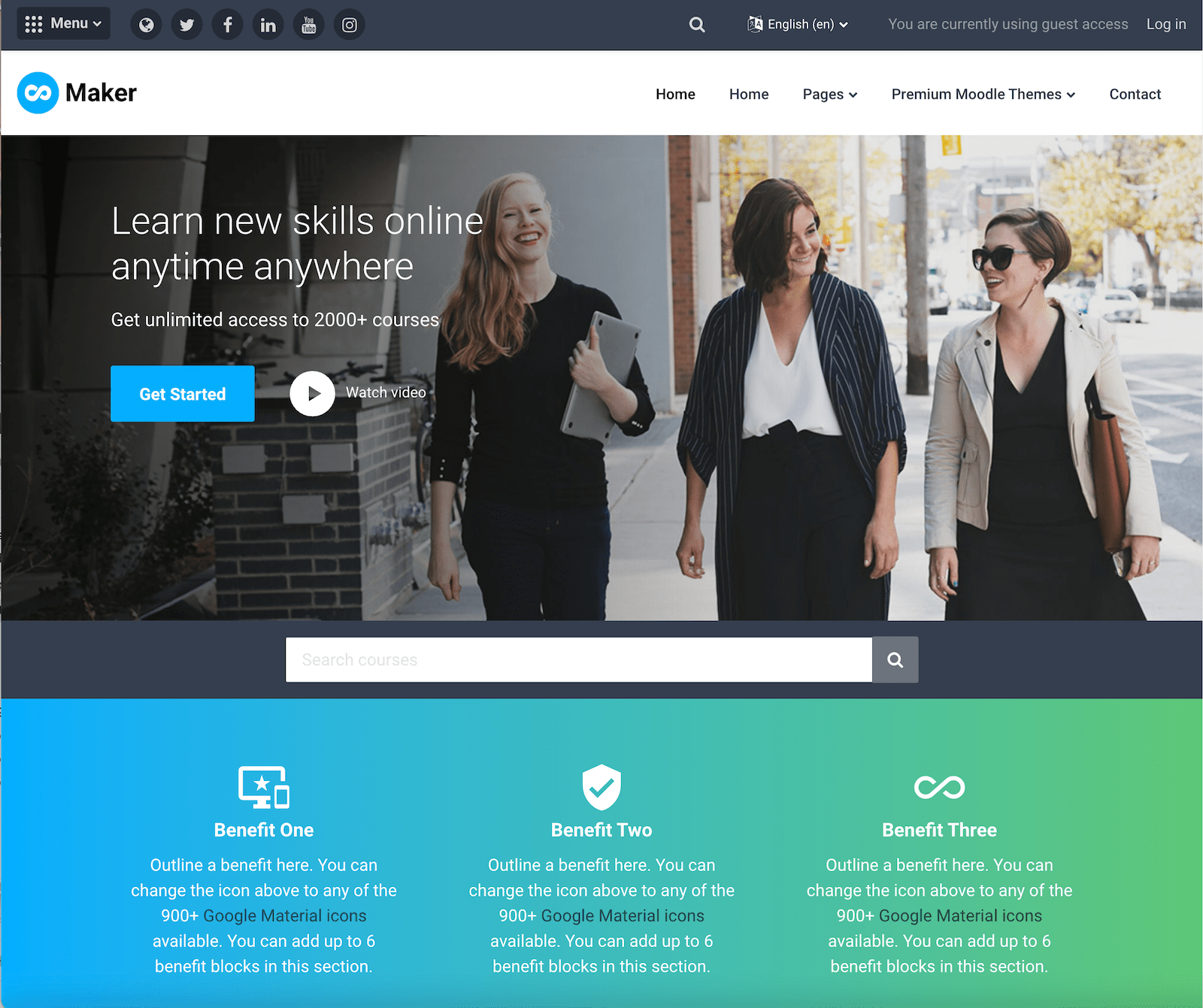 Maker is the best-selling boost-based Moodle theme since Moodle 3.x and it has now been upgraded to be compatible with Moodle 4.0+. This theme has been widely implemented by higher education and small to medium sized business training sites – you can read all the customer reviews on the theme details page.
Like the Edutor theme, Maker theme has a 30-day money back guarantee so it's risk free to try it out before spending your budget.
Adaptable (FREE)
Not yet compatible with Moodle 4.0. Awaiting updates….
Moove (FREE)
Not yet compatible with Moodle 4.0. Awaiting updates….